Dalan d'Olive Repairing Care Shampoo 400ml (New Packaging)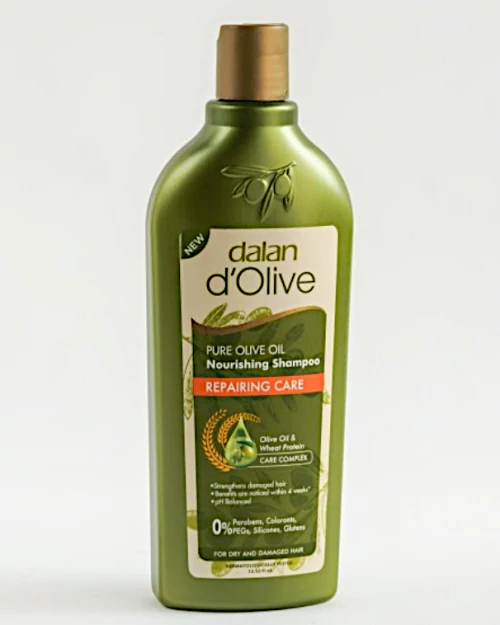 Dalan d'Olive Repairing Care Shampoo nourishes your scalp while strengthening and repairing damaged hair. It gently cleans and moisturises from root to tip, providing your hair with a natural softness and beautiful shine. The pure olive oil in our organic Dalan d'olive Shampoo Repair Care shampoo naturally cleanses the hair and scalp without irritation. It contains a rich mix of antioxidants to help repair damage. Wheat protein combines well with olive oil and both serve to strengthen individual hair strands – making them appear thicker and glossier. Our shampoo also draws moisture into the scalp, helping to relieve itchiness and dryness.

Most of our customers start to see the benefits within just one week, making Dalan d'Olive Repairing Care Shampoo an effective an affordable way to protect and restore your hair. Try it for yourself and notice the difference!

*PARABEN FREE * SILICON FREE * PEG FREE *SLES FREE



KEY INGREDIENTS

Olive Oil Contains a nourishing blend of vitamins and minerals. Suitable for sensitive, itchy scalps.

Wheat Protein Attracts and binds moisture to the hair. Adds strength and shine.

DIRECTIONS FOR USE

Wet your hair with warm water and then pour a little Dalan d'Olive Repairing Care Shampoo into one hand. Rub your hands together to distribute the shampoo evenly, then apply it to your hair roots. Use your fingertips and massage it in gently to encourage healthy blood flow to the scalp. Simply let the shampoo lather run down the hair strands to the ends. Rinse your hair thoroughly and continue your hair care routine with Dalan d'Olive Repairing Care Conditioner.

ORDERING INFORMATION

NATURAL PRODUCTS AT AN AFFORDABLE PRICE

There's a reason that our products are loved by customers all over New Zealand and in more than 90 countries across the globe. We are committed to developing organic, unique products for those with sensitive skin and other conditions – with an emphasis on giving our customers the treatment they deserve.

We have had more than 75 years of experience in the industry, and we source renowned Aegean olive oil from Turkey to use in our various products. Make the switch from chemical-laden alternatives and treat your skin, hair and body with gentle formulas that relax, rehydrate and rejuvenate. From organic soap to hand and body cream, Dalan d'Olive is your one stop shop for natural body care products.
The miracle of Mediterranean olive oil and wheat protein are combined in d'Olive Repairing Care Shampoo's Paraben Free formulation to restore natural health to your hair. Free of Parabens, PEG, Silocon & SLES.